Book your Stay.
A peaceful, central setting ideal for exploring the island. The hotel is the ideal place to enjoy the best of the island. Its location, on Santa Eulalia's peaceful promenade and the natural surroundings make Aguas de Ibiza a charming hotel from which to explore the beautiful beaches the island has to offer.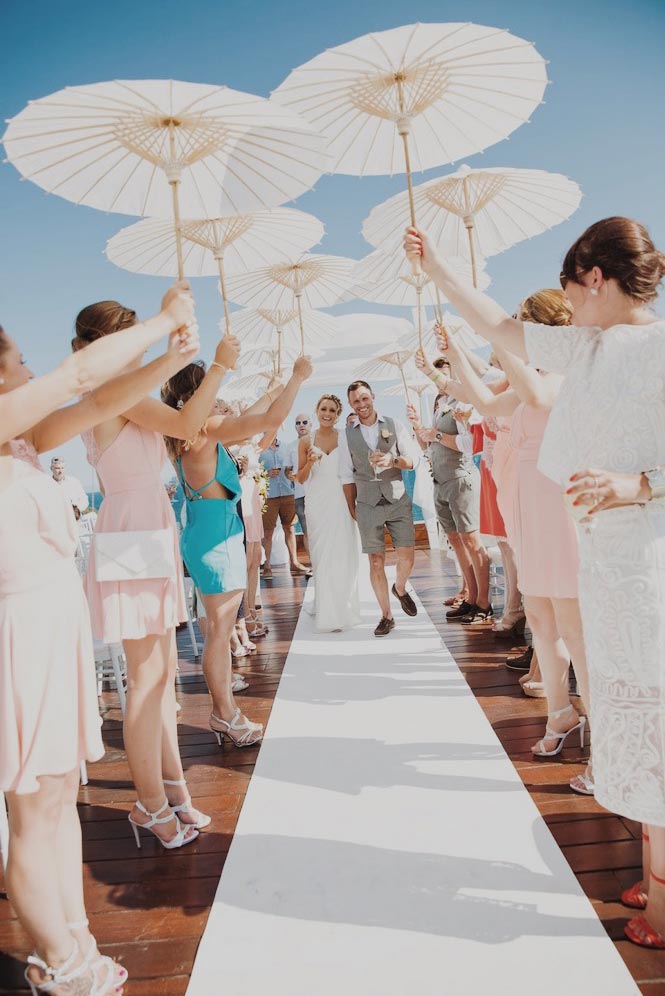 Rooftop wedding
Besides corporate events, the hotel offers a large space for holding the most special weddings. Book Aguas de Ibiza if you want the ideal setting for your events in the island of light and inspiration.
Your event in Aguas de Ibiza Let Ibiza become your stage

Make your meeting or event planning a pleasure in itself. Hotel Aguas de Ibiza is committed to sustainable luxury in every hospitality detail. We also want to share with you our expertise organizing events in Ibiza. The hotel offers accommodation and meeting rooms for companies seeking the most charming, unknown spirit of the island. Each meeting room has natural light and features the latest technological advances. At the end of the day, there is a cocktail bar on the roof and an open bar at the club to relax and socialize.
Located in Santa Eulalia, a short distance from Ibiza airport, the hotel stands opposite the Ibiza Conference Centre, making it the ideal venue for any event on the island.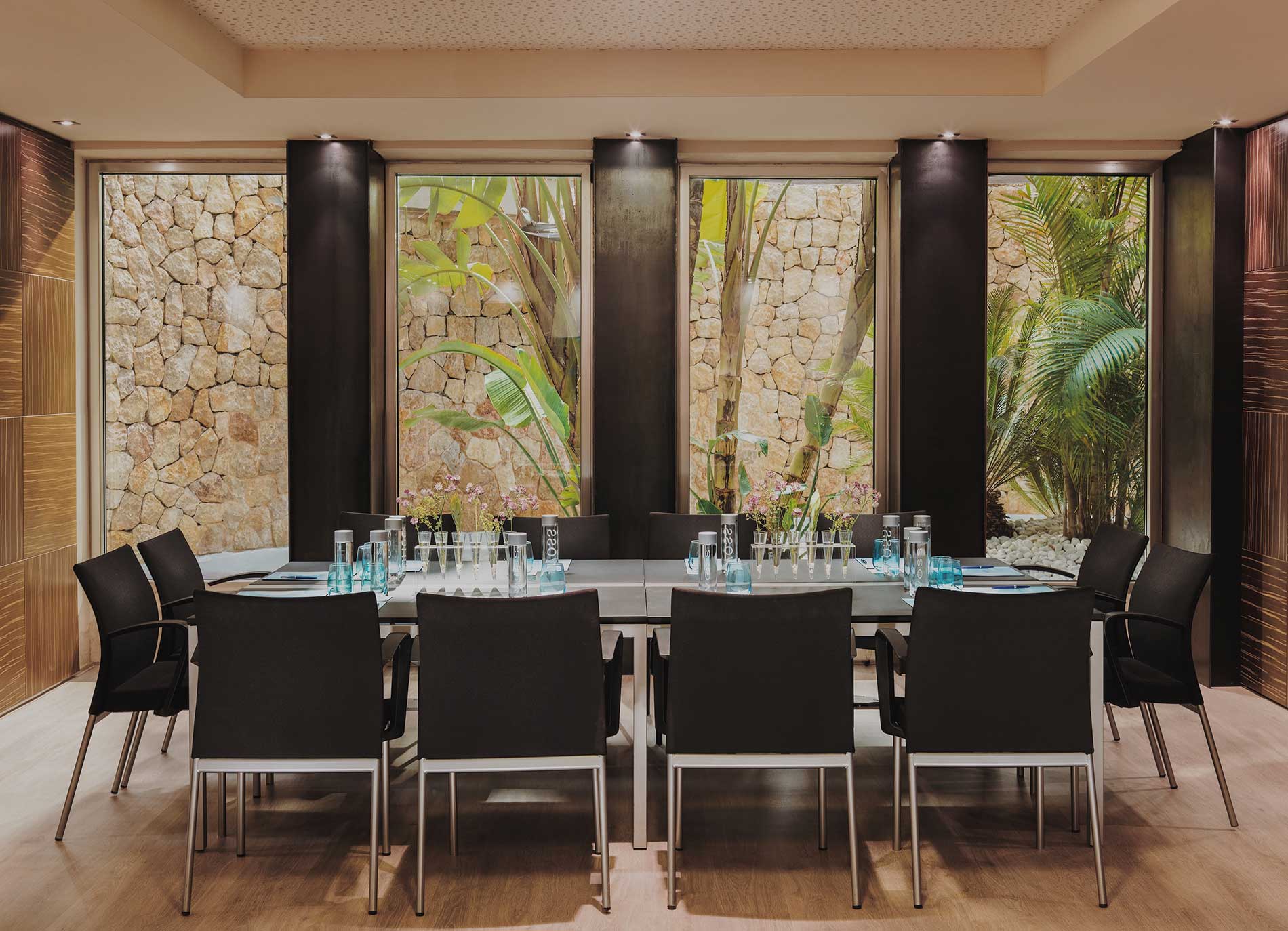 Business 2 room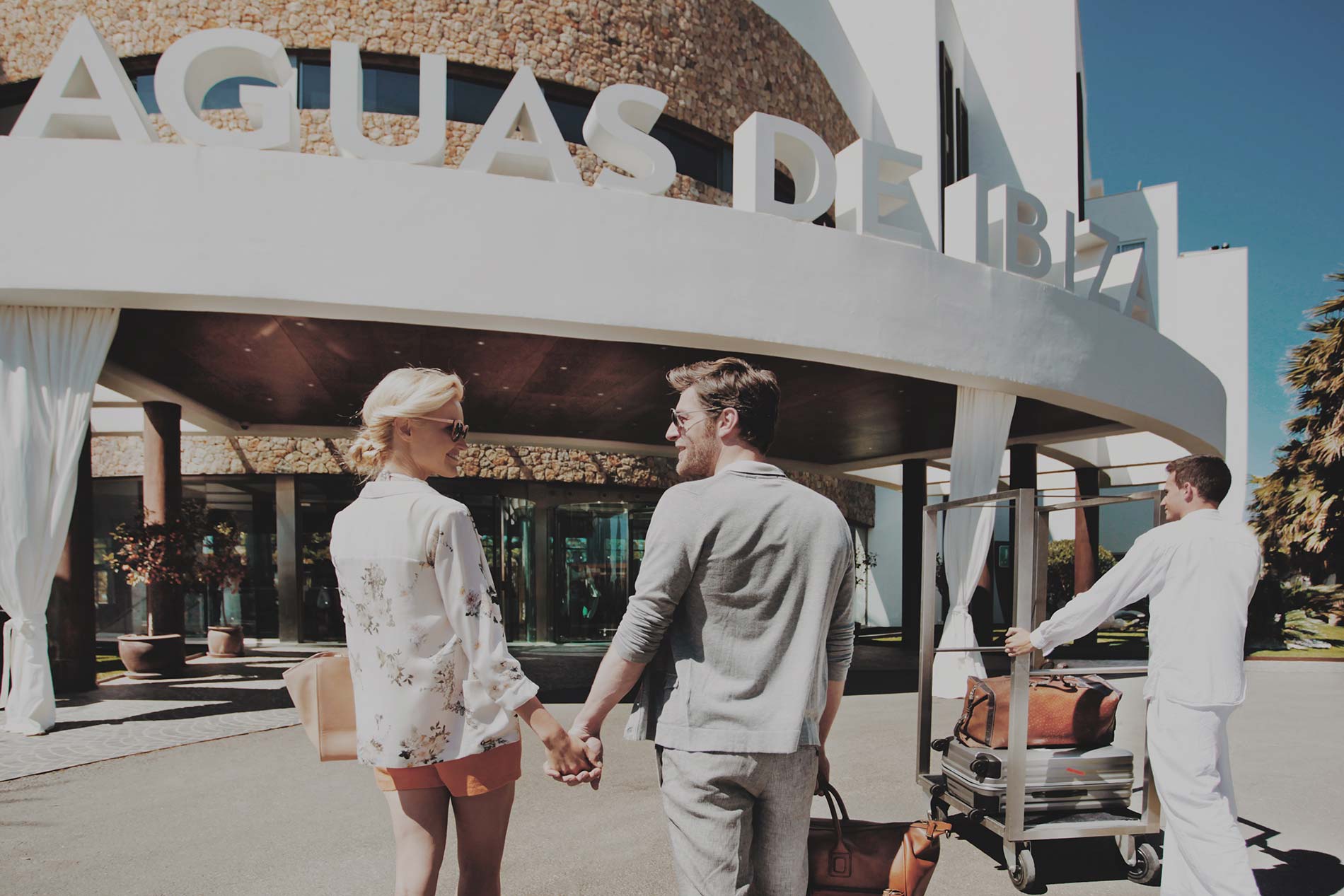 Corporate meeting facilities
Planning a corporate event will get amazingly easy. You can count with three multi-use function meeting rooms for hire that can be used individually or combined, to hold up to 250 people for larger events. The total space of the three function rooms combined is 400m2. Let your guests be enlightened: all hotel meeting rooms have natural light and private gardens, integrating nature and business. Plus the latest technology: touch control system, Wi-Fi, wireless microphones, Hi-Fi audio systems, automatic projectors and press facilities. From gate to gate: the gate to Ibiza Sea Spirit is only opposite the Ibiza Conference Centre and 15 minutes from the airport.
Weddings
Say I do in Mediterranean Style. Come to Aguas de Ibiza if you feel love as the most natural luxury in your life. Celebrate it with a sunset cocktail party on the rooftop. Let the sea be your wedding witness. And then, rejoice in a gala dinner at our Events Hall, where you can share your best day ever with up to 300 people. We want also celebrate your day by offering you a range of wedding services free of charge. And if you want it easy, you can count with the custom service of our highly experienced wedding planner.
Special events in ibiza
During your life, every moment counts, so make the most of them here at Aguas de Ibiza. Let the spirit of the sea melt with our expertise in the organisation of any social or company event: incentive trips, themed parties, team building, etc. From a sailing regatta to Formentera to a fun paintball session, any type of events in Ibiza can be just delightful.